10.0. The breakfast was deliiiiiiiiiiiiiiiiiiiiiiicious. The staff were so kind and courteous. Grounds and house were immaculate. Awesome location right down the street from Great Barrington. We will definitely stay here again. Super modern bathrooms, HVAC, and security systems with the charm of a historical home.
"Beautiful B&B with very nice accommodating owners. Our room had every detail that you would need for a comfortable overnight stay: EXTREMELY clean room; comfortable bed; multiple phone chargers, bedside lights for both people, big TV, Wifi, nice shampoos and soaps; refrigerator; home made cookies; Coffee and Tea downstairs. Nice hot breakfast to start the day. Highly recommend. I had no complaints." Amelia
Display Guestbook
(.pdf file)
3 out of 13 best short hikes in Massachusetts are in Sheffield. Click here!
Non-smoking House!
(smoking outside only)
"Stayed here for 1 night and was very impressed. Very old authentic inn, but upgraded recently with new AC units in the rooms to keep you comfortable. Bathrooms and bedrooms look to have been recently updated as well, All very nice and clean. I would recommend staying here, right down the road from a brewery and a distillery, with tons of antique places in the area. Free breakfast in the morning that was great!" Mark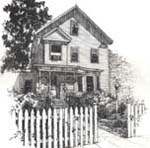 Check out our sister inns in the Boston area, the Morrison House and the Davis Square Inn.


We are now open for business with new procedures to keep you safe. It is exciting for us to be taking guests again!
Area restaurants are open for outdoor and indoor dining. Click here for a partial list.

The meticulously renovated Sheffield 1802 House has retained the charm of the 1802 manor yet provided spacious, well-appointed guest rooms and beautiful modern bathrooms.

Breakfast includes gourmet coffee and tea, fresh fruit, a hot dish, along with accommodation for allergies and special diets.



The lovely large grounds are for your enjoyment.